Mode – Collections Croisière : Sunscapade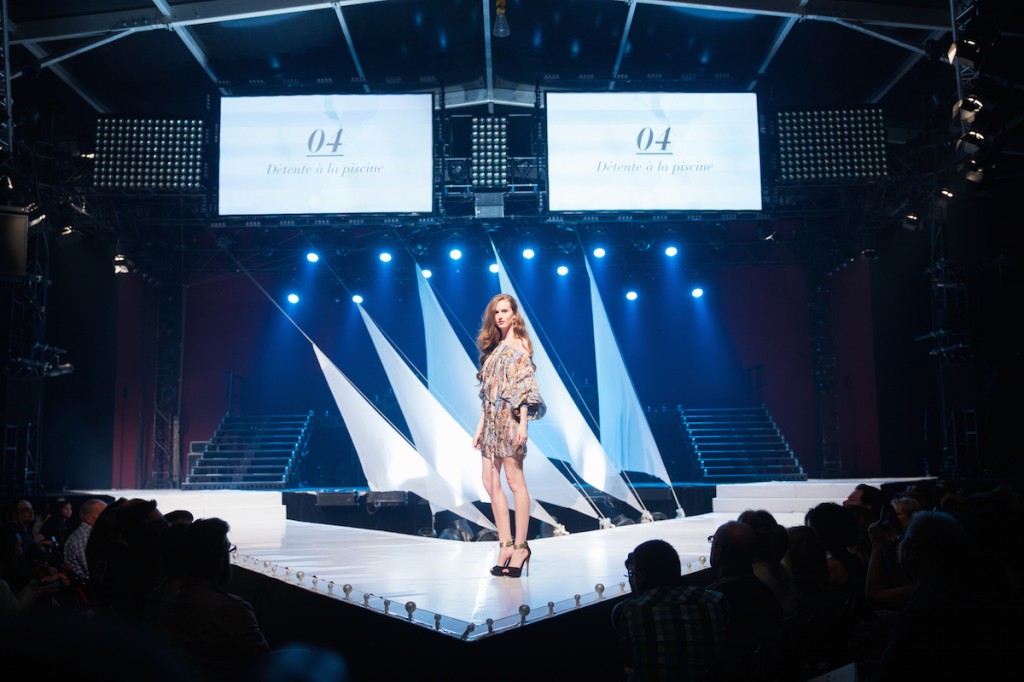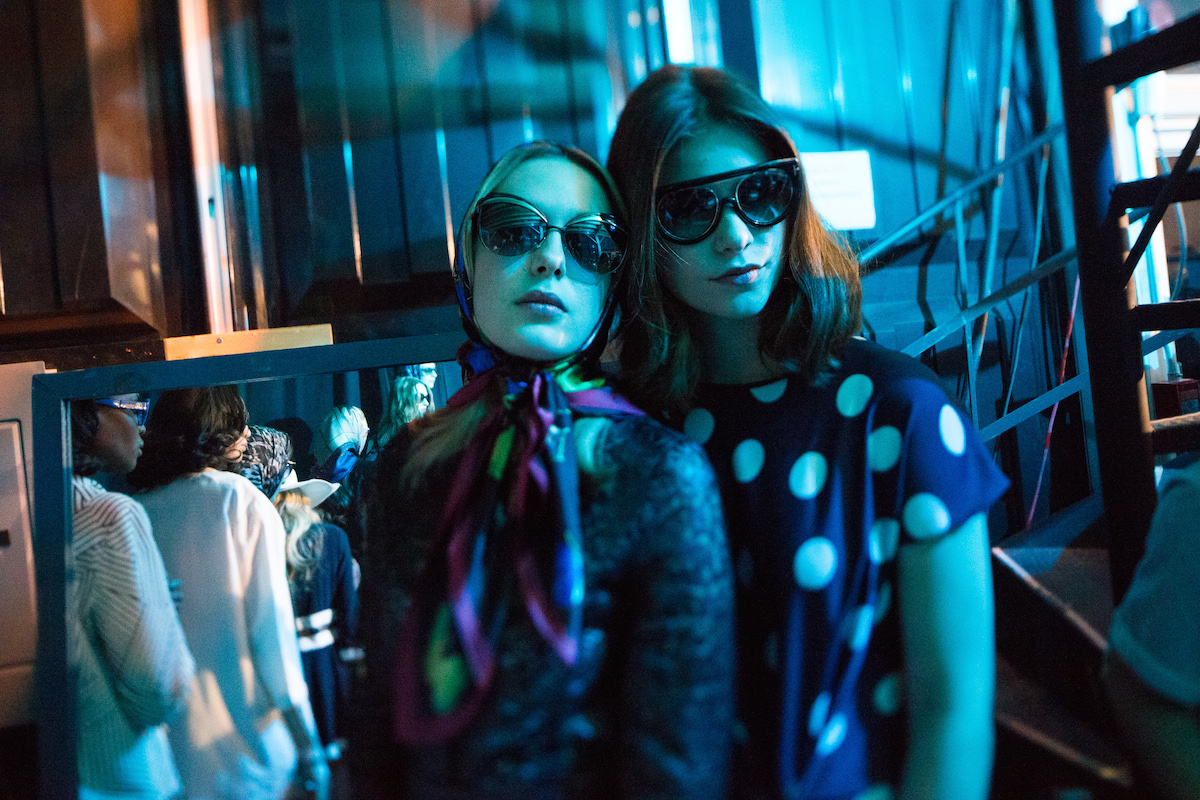 With the snowflakes starting to flutter down over La Belle Province, one can't help but to start daydreaming about lying on a summer beach in Bora Bora or the Bahamas. For those who are planning their speedy escapes before the frost sets in for good, the question comes to mind: what to pack? The Group Sensation Mode brought together some of the best P/É 2015 designs for their presentation of Collections Croisière at the Montreal Casino for your inspiration.
This presentation was divided into six categories: departure, a stroll on the bridge, sports time, lounging by the pool, cocktail hour and a night of festivities. Each showing highlighted the trends of the season by bringing together a selection of styles from thirty different designers to create the ultimate vacation look for the on-trend travelling Montrealer.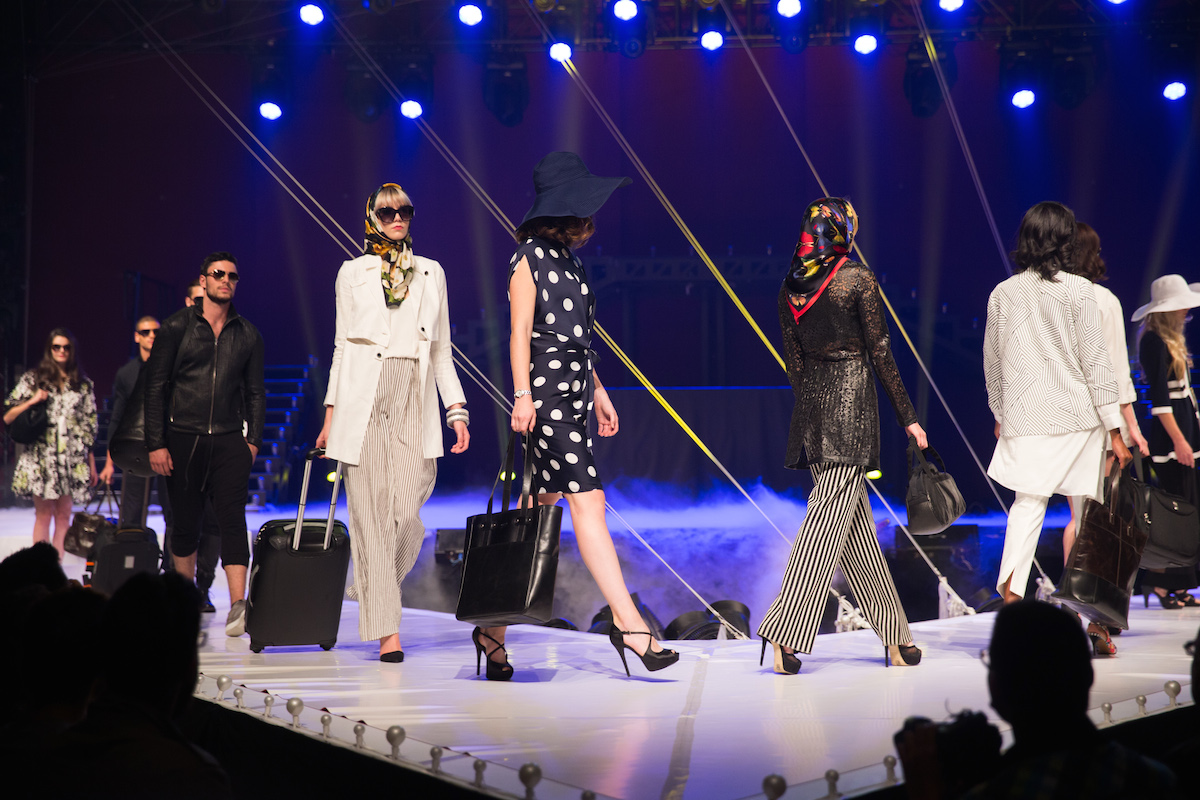 Rolling out for departure was a selection of long-fit jackets for the ladies and fitted leather for the men. Our favourites were the low-crotched leather pocketed cotton pants for men by LaMarque which made for a comfy-sleek look. Samuel Dong's monochrome floral trench struck us as a fabulous twist on a classic Spring essential.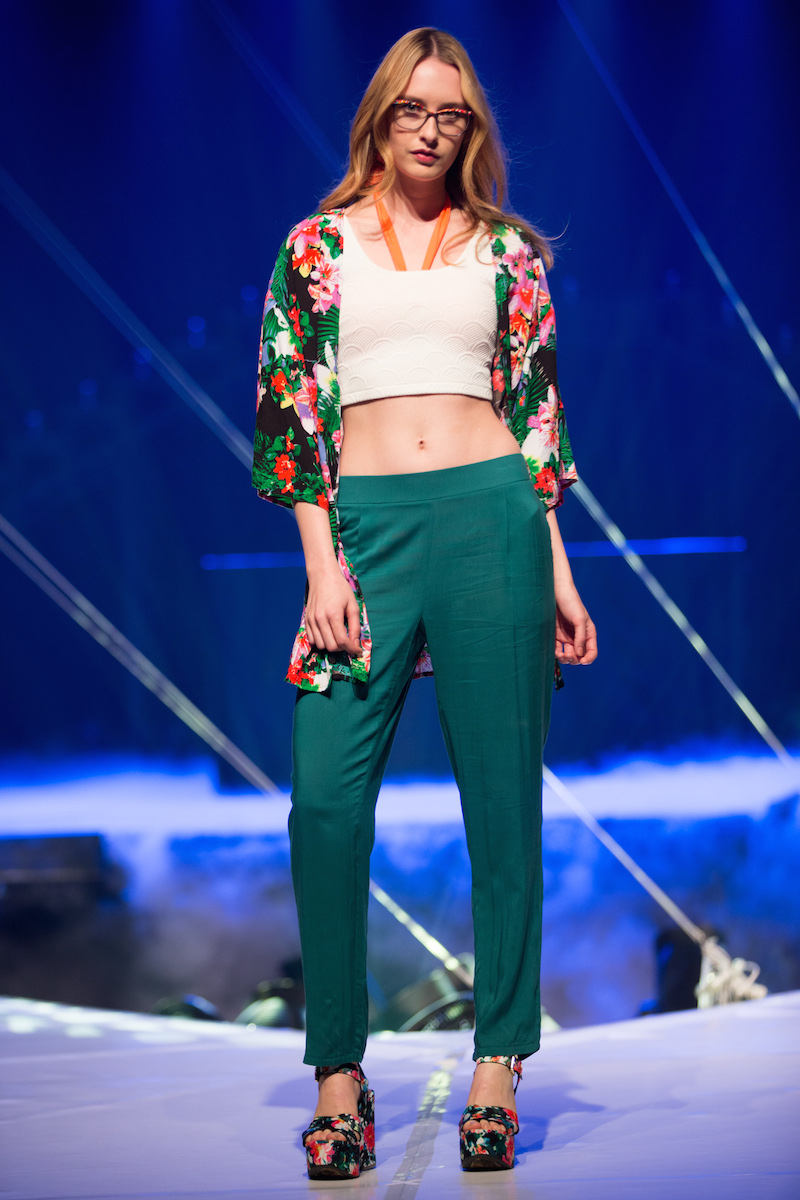 For a stroll on the bridge the looks were bold in colour with fresh florals. While these are classic themes of the season, the cut and fit of the clothing was of more interest to us. Joseph Ribkoff's yellow pastel jacket featuring a large straight cut collar looked so chic paired with a matching pencil skirt. Samuel Dong impressed us once again with his carefree but classy tops and dresses, cinched at the waist by a matching belt, the flouncing skirts of his looks created fun movement. Helmer's pastel violet suit for men was an extremely fresh look that would look wonderful on just about any gentleman.
V-Franz and Véronique Miljkovitch were stand-outs in the sportswear showing and brought a very edgy adaptation to the traditional track pants and sports bra combo. Mesh and leather incorporations in V-Franz's looks add a cool-factor to working out which is sure to impress.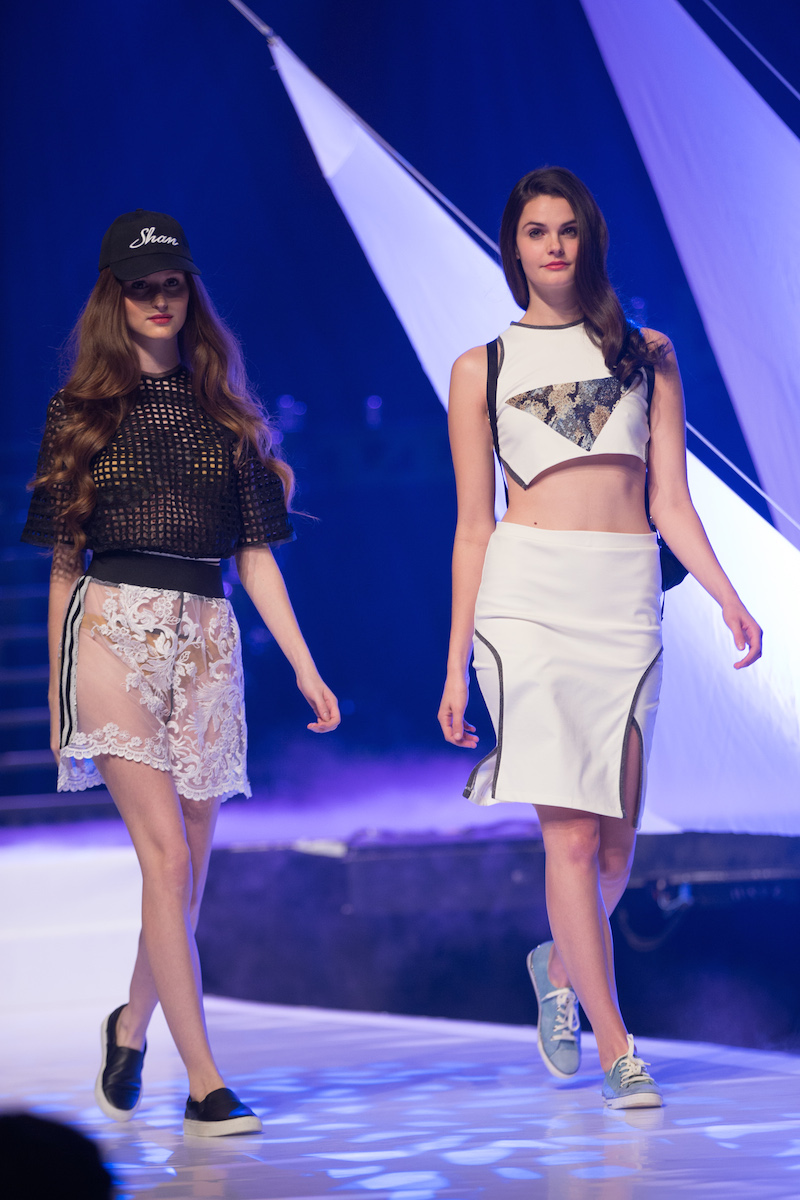 Aqui Di Lara for the ladies and Turco Pour Envers for the gentlemen were designed to make a statement. Turco Pour Envers uses fresh floral prints and check for men's swimwear that offers a great improvement to the typical board-short beach-bum look. Aqua Di Lara's looks play with line and create interesting new shapes with their swimwear for women, connecting bikini tops and bottoms with interesting criss-cross elements sure to catch the eye.
For Cocktail hour everything from shift dresses to 60's-chic framed the models as they breezed by. Our favourite look was Niapsou Design's kimono-esque dress with a stunning print and long-cut which show that flattering a woman's form isn't all about showing skin.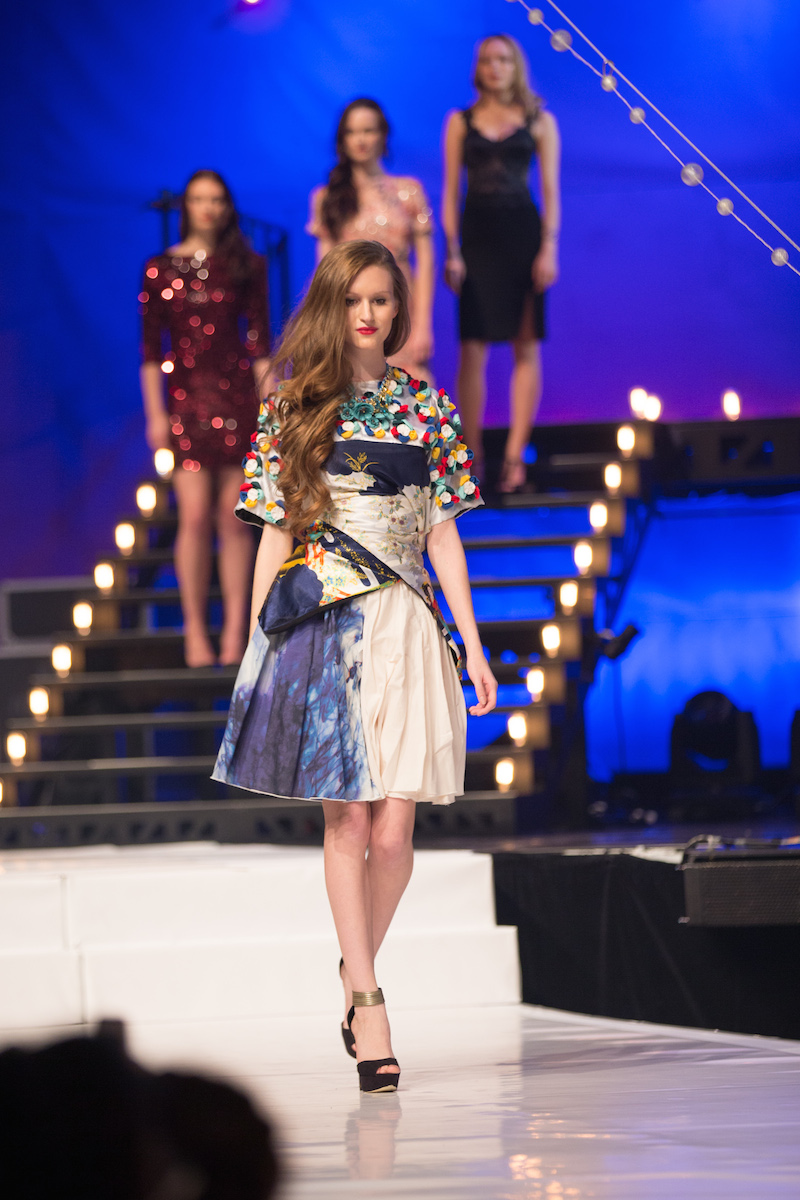 An overwhelming finish of lush fabrics and forms concluded the defilé for the festive evening looks. Tuxedos and gorgeous dresses of every cut were brought together, covering the showcase-staircase on stage with glamour. Our stand-out looks were Nadya Toto's sheer dress thrown over a floral Everyday Sunday bathing suit, it was fresh, young and very cool. Muse by Christian Chenail showed a gorgeous black number with a sweetheart neckline that flowed just perfectly. Di Carlo Couture's silver art deco inspired look was absolutely stunning. Finally, Le Château's formal-wear is worth a look. Their simple black dress with tafetta skirt added the perfect elegant element to the piece. They outfitted all the men in this section of the presentation and we must say, they all looked very sharp.
Collection Crosière put on quite the show and had us feeling transported to a dream world of luxury. The Montreal Casino couldn't have been a better fit for the extravagant escapes which these looks demand to be packed into your luggage for. It was interesting to see how different designers' looks pair together to create unique styles. We're feeling inspired to come up with our own combinations for these fresh threads in the new season!
Article: Sarah Swiderski
Article: Sarah Swiderski
Photos: Jimmy Hamelin, Allen McEachern, Sébastien Roy, Agnieska Stalkoper pour Sensation Mode
Commentaires
commentaire